Southwest Asia Service Military Medal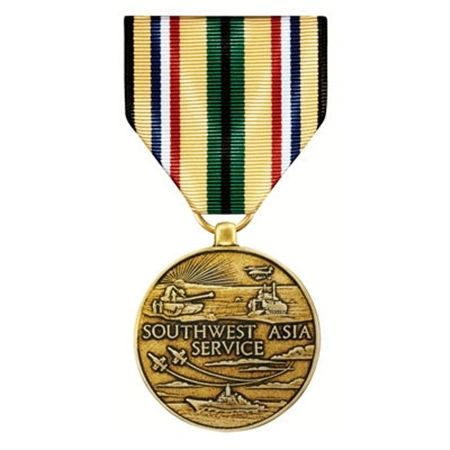 Southwest Asia Service Military Medal
Service: All Services

Instituted: 1992

Dates: 1991-1995

Criteria: Active participation in, or support of, Opera­tions Desert Shield, Desert Storm and/or subsequent follow-on operations in southwest Asia.

Devices: All Services: Bronze Star; Navy: Bronze Marine Corps device.

Notes: Recipients of this medal are usually entitled to the Saudi Arabian Medal for the Liberation of Kuwait and the Emirate of Kuwait Medal for the Liberation of Kuwait.

Awarded to members of the United States Armed Forces who participated in, or directly supported, military operations in Southwest Asia or in surrounding areas between August 2, 1990 and November 30, 1995 (Operations Desert Shield, Desert Storm and follow-up). The medal was established by an executive order signed by President George Bush on March 15, 1991.

The front of the medal depicts the tools of modern desert warfare, i.e., aircraft, helicopter, tank, armored personnel carrier, tent and troops, battleship, in both desert and sea settings along with the inscription, "SOUTHWEST ASIA SERVICE" in the center. The reverse of the medal contains a sword entwined with a palm leaf representing military preparedness and the maintenance of peace and the inscription "UNITED STATES OF AMERICA" around the periphery. The ribbon is predominately tan, symbolizing the sands of the desert and contains thin stripes of the U.S. national colors towards each edge. The green and black center stripes and the black edges, along with the red and white, suggest the flag colors of most Arab nations in the region of Southwest Asia.

Approved campaigns for the Southwest Asia Service Medal, each being represented by a bronze star:
• Operation Desert Shield, August 2, 1990 - January 16, 1991
• Operation Desert Storm, January 17, 1991 - April 11, 1991
• Southwest Asia Cease-fire Campaign, April 12, 1991- November 30, 1995
• Operation Provide Comfort, June 1, 1992 - November 30, 1995

There are a maximum 3 campaign stars authorized for this award.


Reviews
Featured Products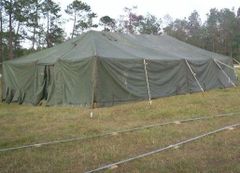 General purpose Medium Tent 16'x32'
$1,500.00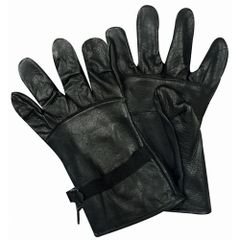 D3A Leather Glove Shell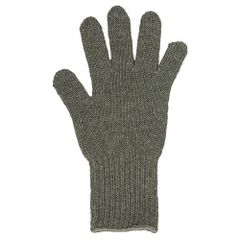 GI Glove Liners