Tactical Scorpion Gear AR500 steel plate body armor . (Made in the USA)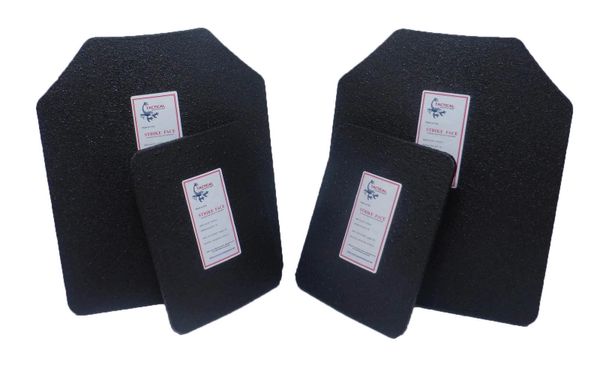 Tactical Scorpion Gear AR500 steel plate body armor . (Made in the USA)
Tactical Scorpion Gear AR500 steel plate body armor . (Made in the USA) FREE SHIPPING IN USA ONLY.
A stand alone armor plate with multiple hit capability
Fully encapsulated to protect against corrosion, chemicals and sweat
Will fit most common carrier vests ( We manufacturer a full line of quality carrier vests)
Laser cut
Fully tested by independent Lab ( documentation sent by request)

Rated for up to six hits from 7.62 Nato bullets (.308 Winchester) with velocities up to 2780 fps
For front and/or back protection
Plate Size: 4 PC set two 10 x 12 and two 6 x 8 plates

There is no equal method
Plasma cutting cuts slowly, this puts a lot of heat into the steel. ( Submerged plasma cutting machine is no better) This excess heat can result in excessive chipping and damage near the cut edge during use and easily shattering when shot. Plasma cutting generates large amounts of heat that is deposited into the steel, softening it's edges. Plasma cutting is the largest out of the most commonly used methods for cutting abrasion resistant steel. Most AR500 is cut with plasma cutters as they are cheap and relatively small compared to laser cutting.
Our Curved plate is bent on a laser cut custom die set with single radius bend which provides a perfect radius on each and every plate we produce, not bent multiple times on a press brake which provides uncontrollable results.
Here at Tactical Scorpion Gear we manufacture our own vest carriers, Kevlar level IIIA vests and all our products. We have every item listed in stock and ready for immediate shipping.
Reviews
Featured Products